All 8lbs 6oz. of Miss Edie May Kreifels arrived on 2/13/05, at 6am, at home in a tub of warm water, into the hands of her Daddy.
Heartfelt congrats to Randie, Larry, and big-sis Violet!!


You'll love the big sis gig, Vi. Trust me.
Edie, I knew your mom when she was this big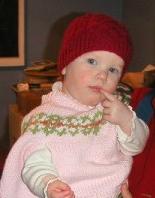 Hmmm... my very own mini-me...?